The United States District and Bankruptcy Courts for the District of Idaho as well as Probation and Pretrial announce operating with reduced staff. For full details and pro se email filing links, please visit the COVID-19 Information section of this website.
The District of Idaho is currently operating under a "Moderate Risk" level. Public access to the courthouses will be strictly limited to those individuals with specific business, e.g., those attending a hearing or visiting their probation officer. All individuals (unvaccinated and fully vaccinated), including staff, are required to wear a mask when in the public areas of the courthouses. Mask requirements for all in-court proceedings will be subject to the presiding judge's discretion.
United States District & Bankruptcy Courts
Welcome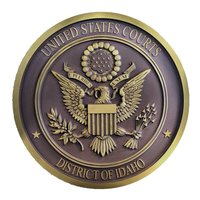 The District of Idaho Clerk of Court, Stephen W. Kenyon, welcomes you to the U.S. District and Bankruptcy Courts for the District of Idaho. We are one of 15 districts in the Ninth Circuit which spans 9 western states. Idaho is proud to be one of only six consolidated District and Bankruptcy Clerks' Offices within the federal judiciary.
The U.S. Courts for the District of Idaho was created with statehood in 1890. Our offices are located in Boise, Coeur d'Alene, and Pocatello.
We trust this website will give some insight into the functions of the U.S. Courts and how the Clerk's Office can better serve the people of the State of Idaho.

Updated Appellate and Bankruptcy Rules and Forms
Dec 02, 2021
Please click here for the amended appellate and bankruptcy rules and new forms that became effective 12/1/2021.

Public Notice Relating to UST Forms Update
Nov 22, 2021
USTP to post updated UST Form 11-MORs and UST Form 11-PCRs on November 30, 2021.

Susie Headlee Receives FBA Lifetime Service Award
Nov 01, 2021
Susie Headlee received the FBA's Lifetime Service Award at the 2021 District of Idaho Bench Bar Conference.

Changes to Bankruptcy Rule 9036
Oct 21, 2021
Correspondence from the AO regarding December 1, 2021, changes to Bankruptcy Rule 9036.

Judge Hillen Named One of ABI's "40 Under 40"
Oct 21, 2021
Bankruptcy Judge Noah Hillen has been named one of ABI's "40 Under 40" industry professionals for 2021.

GO 404 re Merit Selection Panel
Oct 07, 2021
New General Order naming the members of the Merit Selection Panel to select the District's new magistrate judge.

Emergency Rental Assistance Programs
Oct 06, 2021
Emergency rental assistance programs available to renters and landlords facing challenges due to the COVID-19 pandemic.


The mission of the United States District and Bankruptcy Courts for the District of Idaho is to provide an impartial and accessible forum for the just, timely and economical resolution of legal proceedings within the jurisdiction of the Courts, so as to preserve judicial independence, protect individual rights and liberties, and promote public trust and confidence.

Print Me