United States District & Bankruptcy Courts
Welcome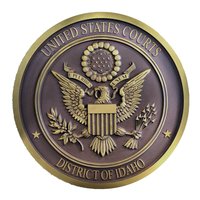 The District of Idaho Clerk of Court, Stephen W. Kenyon, welcomes you to the U.S. District and Bankruptcy Courts for the District of Idaho. We are one of 15 districts in the Ninth Circuit which spans 9 western states. Idaho is proud to be one of only six consolidated District and Bankruptcy Clerks' Offices within the federal judiciary.
The U.S. Courts for the District of Idaho was created with statehood in 1890. Our offices are located in Boise, Coeur d'Alene, and Pocatello.
We trust this website will give some insight into the functions of the U.S. Courts and how the Clerk's Office can better serve the people of the State of Idaho.

New General Order 390
Mar 04, 2021
Pro se email boxes established during COVID-19 pandemic to be deactivated 3/22/21; Court returns to standard filing procedures.
FBA Virtual Tri-State Conference March 11-12, 2021
Mar 02, 2021
The FBA (Virtual) Tri-State Conference will be held March 11-12, 2021. It is free for FBA members. Please click to register.

"9th Circuit Cowboy" - March 11, 2021, 4 p.m. PST
Feb 18, 2021
Virtual filmmaker presentation and film access to the story of Judge Harry Pregerson presented by NJCHS. CLE credit pending.


New GO 389 re Due Process Protections Act
Jan 26, 2021
Adoption of model order to be entered in criminal matters at the time of initial appearance

New General Order 388
Jan 22, 2021
Continued Court operations in February 2021 due to the COVID-19 pandemic

New U.S. Magistrate Judge Selected
Jan 15, 2021
Raymond E. Patricco, Jr. has been selected for appointment as the new U.S. Magistrate Judge for the District of Idaho.

New General Order 387
Jan 11, 2021
Appoints Advisory Committee on District Court Local Rules

Important NextGen Announcement for Attorneys
Dec 28, 2020
Important dates and action items for attorneys regarding the District of Idaho's upgrade to NextGen CM/ECF in March 2021.
The Ninth Circuit has announced the theme for the 2021 Civics Contest -- What Does Our American Community Ask of Us?


The mission of the United States District and Bankruptcy Courts for the District of Idaho is to provide an impartial and accessible forum for the just, timely and economical resolution of legal proceedings within the jurisdiction of the Courts, so as to preserve judicial independence, protect individual rights and liberties, and promote public trust and confidence.

Print Me