United States District & Bankruptcy Courts
Welcome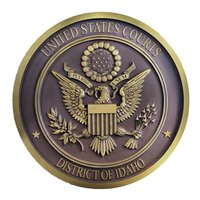 The District of Idaho Clerk of Court, Stephen W. Kenyon, welcomes you to the U.S. District and Bankruptcy Courts for the District of Idaho. We are one of 15 districts in the Ninth Circuit which spans 9 western states. Idaho is proud to be one of only six consolidated District and Bankruptcy Clerks' Offices within the federal judiciary.
The U.S. Courts for the District of Idaho was created with statehood in 1890. Our offices are located in Boise, Coeur d'Alene, and Pocatello.
We trust this website will give some insight into the functions of the U.S. Courts and how the Clerk's Office can better serve the people of the State of Idaho.

Updated Means Testing Data Effective Nov. 1, 2020
Oct 18, 2020

2021 Community Grant - Press Release
Oct 02, 2020
The Board of Judges and lawyer reps announce $40,000 available for Community Grants. Deadline 10/30.

District of Idaho Appoints Lawyer Representative
Oct 01, 2020
The District of Idaho is pleased to announce the selection of Katie Ball as a new Lawyer Representative.

New General Order 373 renewing General Order 363
Sep 25, 2020

FBA Case Summaries - September 2020
Sep 15, 2020

FBA CLE Program October 29, 2020 via Zoom
Sep 15, 2020
Compassionate Release and the First Step Act - Guest speakers: Miles Pope and Justin Whatcott.

Assignment of BK Cases and Adversary Proceedings
Aug 31, 2020
General Order 372 was issued on August 31, superceding General Order 371 re assignment of BK cases and adversary proceedings.

U.S. Trustee Program
Aug 31, 2020
U.S. Trustee Program Extends Telephonic or Video Section 341 Meeting
- August 28, 2020


CJA Application Announcement
Aug 28, 2020
Please note applications are due by October 31, 2020.


The mission of the United States District and Bankruptcy Courts for the District of Idaho is to provide an impartial and accessible forum for the just, timely and economical resolution of legal proceedings within the jurisdiction of the Courts, so as to preserve judicial independence, protect individual rights and liberties, and promote public trust and confidence.

Print Me