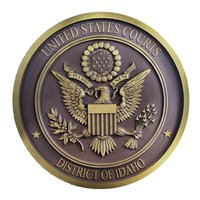 The District of Idaho Clerk of Court, Stephen W. Kenyon, welcomes you to the U.S. District and Bankruptcy Courts for the District of Idaho. We are one of 15 districts in the Ninth Circuit which spans 9 western states. Idaho is proud to be one of only six consolidated District and Bankruptcy Clerks' Offices within the federal judiciary.
The U.S. Courts for the District of Idaho was created with statehood in 1890. Our offices are located in Boise, Coeur d'Alene, and Pocatello.
We trust this website will give some insight into the functions of the U.S. Courts and how the Clerk's Office can better serve the people of the State of Idaho.

Public Notice re Bankruptcy Local Rule Changes
Nov 03, 2022
The public is invited to review the attached proposed Local Rule changes. Comments are due by December 5, 2022, at 5:00 p.m. MST.

GO 421 Extending CARES Act Provisions
Nov 02, 2022
Renewing GO 363 and extending the CARES Act provisions in criminal proceedings by 90 days.

Bankruptcy Judgeship Opportunity - S.D. California
Oct 18, 2022
Please see the attached announcement regarding a bankruptcy judgeship opportunity in the Southern District of California.

GO 419 re Court Operations During COVID Pandemic
Sep 28, 2022
New General Order outlining updates to Court operations during the COVID-19 pandemic.
Mission Statement


The mission of the United States District and Bankruptcy Courts for the District of Idaho is to provide an impartial and accessible forum for the just, timely and economical resolution of legal proceedings within the jurisdiction of the Courts, so as to preserve judicial independence, protect individual rights and liberties, and promote public trust and confidence.