U.S. Magistrate Judge Debora K. Grasham
General Information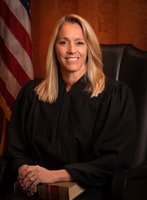 Judge Debora K. Grasham began her appointment as United States Magistrate Judge on April 1, 2022. Prior to being appointed to the bench, Judge Grasham was a partner at Givens Pursley, LLP in Boise, Idaho for more than 22 years. There, she represented a variety of clients in commercial litigation and employment matters, and specialized in first amendment, privacy, and media law. Prior to joining Givens Pursley, LLP, Judge Grasham practiced at Davis Wright Tremaine, LLP in Boise, Idaho and Seattle, Washington from 1990 to 1999.
Judge Grasham has long worked on behalf of the federal courts, including as a Lawyer Representative for the District of Idaho and as a member of the Ninth Circuit's Lawyer Representatives Coordinating Committee, Advisory Board and Public Information and Community Outreach Committee. She is the former President of the Idaho State Bar, President of the Richard C. Fields American Inns of Court, and frequent mentor at the Idaho Trial Skills Academy. Judge Grasham is also the former Chair of the Ninth Judicial Circuit Historical Society and President of the Idaho Legal History Society, and has written extensively on the early women lawyers of Idaho. In 2021, she received the Idaho State Bar's highest honor, the Distinguished Lawyer Award, recognizing her "exemplary conduct and many years of dedicated service to the profession and to Idaho citizens," and is the recipient of the 2005 Kate Feltham Award from the Idaho Women Lawyers. Judge Grasham is a member of the Idaho Chapter of the Federal Bar Association, and recipient of its Exemplary Service Award in 2011.
Judge Grasham graduated from the University of California, Berkeley, and received her law degree from Santa Clara University School of Law, where she served as Editor-in-Chief of the Law Review.

Print Me