United States Bankruptcy Court
Welcome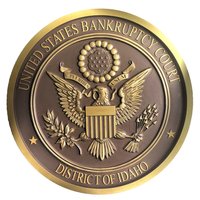 Welcome to the U.S. Bankruptcy Court for the District of Idaho.
We hope this website will provide useful information about the Court, its operations and its processes, and answer many of the questions you might have. Please let us know if you have suggestions to improve the site.
Below you can find the latest news from the Bankruptcy Court for the District of Idaho.

The calendar updates as new information becomes available and is subject to change without notice. To schedule a hearing, contact the courtroom deputies.


Proposed Dates for Chief Judge Joseph Meier 2021

Proposed Dates Judge Noah G. Hillen 2021 Rev 2/21

341(a) Meeting of Creditor Dates 2021

New General Order 390
Mar 04, 2021
Pro se email boxes established during COVID-19 pandemic to be deactivated 3/22/21; Court returns to standard filing procedures.
FBA Virtual Tri-State Conference March 11-12, 2021
Mar 02, 2021
The FBA (Virtual) Tri-State Conference will be held March 11-12, 2021. It is free for FBA members. Please click to register.

"9th Circuit Cowboy" - March 11, 2021, 4 p.m. PST
Feb 18, 2021
Virtual filmmaker presentation and film access to the story of Judge Harry Pregerson presented by NJCHS. CLE credit pending.


New General Order 388
Jan 22, 2021
Continued Court operations in February 2021 due to the COVID-19 pandemic

New U.S. Magistrate Judge Selected
Jan 15, 2021
Raymond E. Patricco, Jr. has been selected for appointment as the new U.S. Magistrate Judge for the District of Idaho.

Important NextGen Announcement for Attorneys
Dec 28, 2020
Important dates and action items for attorneys regarding the District of Idaho's upgrade to NextGen CM/ECF in March 2021.
The Ninth Circuit has announced the theme for the 2021 Civics Contest -- What Does Our American Community Ask of Us?

Print Me