United States District & Bankruptcy Courts
Welcome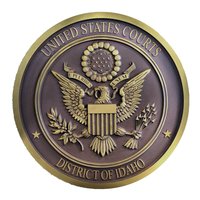 The District of Idaho Clerk of Court welcomes you to the U.S. District and Bankruptcy Courts for the District of Idaho. We are one of 15 districts in the Ninth Circuit which spans 9 western states. Idaho is proud to be one of only four consolidated District and Bankruptcy Clerks' Offices within the federal judiciary.
The U.S. Courts for the District of Idaho was created with statehood in 1890. Our offices are located in Boise, Coeur d'Alene, Moscow and Pocatello.
We trust this website will give some insight into the functions of the U.S. Courts and how the Clerk's Office can better serve the people of the State of Idaho.

Accepting Applications for CJA Panel
Sep 22, 2017
The deadline to submit applications to serve on the CJA Panel for the U.S. District Court is October 31, 2017.

Public Comment Period for Rules/Forms Changes
Sep 17, 2017
The public is invited to review and provide comments on proposed updates to local bankruptcy forms and rules.

FBA Brown Bag CLE - Sept 26- all locations
Aug 17, 2017
Blair Perilman, Ninth Circuit Case Managing attorney, will be presenting "Managing your Criminal Case"

Moscow Court Hearings to be Discontinued 9/1
Aug 04, 2017
Please see the Courts' Notice regarding Moscow Court hearings. This does not impact §341(a) Meetings.

Press Release re Judge David C. Nye
Aug 01, 2017

Tri-State FBA Conference Oct. 5-7 - Jackson, WY
May 16, 2017
The 13th Annual Tri-State Conference program information is available. Hotel and conference registration is now open.


The mission of the United States District and Bankruptcy Courts for the District of Idaho is to provide an impartial and accessible forum for the just, timely and economical resolution of legal proceedings within the jurisdiction of the Courts, so as to preserve judicial independence, protect individual rights and liberties, and promote public trust and confidence.

Print Me