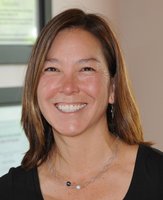 Lori Nakaoka has been a criminal defense attorney since 1993. Her practice has included all aspects of criminal defense, both state and federal, with an emphasis on appellate and post-conviction litigation. In 2000, she began practicing immigration law, emphasizing family-sponsored immigration and defending detention and removal cases. She has been with the Law Office of Andrew Parnes since 1997.
Ms. Nakaoka graduated from University of California, Berkeley with degrees in Cultural Anthropology and Oriental Languages, and obtained her law degree from the University of California, Hastings College of Law. She is a member of the American Immigration Lawyers Association; The National Lawyer's Guild; The National Immigration Project; and the Idaho Association of Criminal Attorneys. Ms. Nakaoka is licensed to practice law in California and Idaho.
A native of the West, Ms. Nakaoka was born in Colorado, grew up in New Mexico, and spent her young adult life in California. She moved to Idaho in 1996, and lives in Hailey with her husband, Scott Montgomery, CEO of Club Ride Apparel, and their two children, Clyde (15 yrs) and Sara (12 yrs). Two more children, Haley (18 yrs) and Elana (19 yrs) have graduated from high school and left home. Haley is a freshman at the University of British Columbia. Elana is spending a gap year in Austria and will be attending Georgetown University in the fall of 2015.
Appointed November, 2014
Term of Service: 2015-2017
Contact Information:
Lori A. Nakaoka (3rd & 5th Districts)
Law Office of Andrew Parnes
671 N 1st Ave. | Ketchum, ID 83340
t. 208.726.1010 | f. 208.726.1187