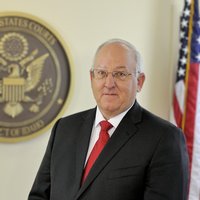 Chief Judge David C. Nye welcomes you to the U.S. District Court for the District of Idaho. In 1891
was appointed by President Harrison to become the first Federal Judge for the District of Idaho. We have a long and proud history rooted in our commitment to provide an impartial and accessible forum for the just, timely and economical resolution of legal proceedings within the jurisdiction of the Courts.
The District of Idaho has had 11
Judges appointed by the President of the United States, with two of them currently presiding. In addition to our two Article III Judges, we have two Magistrate Judges assisting with our busy workload.
Our judges hold court in Boise, Coeur d'Alene, and Pocatello.

The calendar updates as new information becomes available and is subject to change without notice. To schedule a hearing, contact the courtroom deputy.


New GO 394 re Updated ECF Procedures
Apr 09, 2021
Updated procedures for electronic case filing with the Court.

New GO 395 re Fax Filing
Apr 09, 2021
Updated procedures regarding filing by fax with the Court.

GO 392 - Revised Due Process Protections Act Order
Mar 23, 2021
General Order adopting revised Due Process Protections Act Order to be entered at initial appearance.

New GO 393 Extending CARES Act Provisions
Mar 23, 2021
Renewing GO 363 and extending CARES Act provisions in criminal proceedings by 90 days

New GO 391 re Court Operations March 2021
Mar 18, 2021
Continued Court operations in March 2021 due to COVID-19 pandemic.

New General Order 390
Mar 04, 2021
Pro se email boxes established during COVID-19 pandemic to be deactivated 3/22/21; Court returns to standard filing procedures.