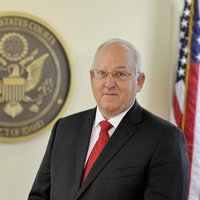 Chief Judge David C. Nye welcomes you to the U.S. District Court for the District of Idaho. In 1891
was appointed by President Harrison to become the first Federal Judge for the District of Idaho. We have a long and proud history rooted in our commitment to provide an impartial and accessible forum for the just, timely and economical resolution of legal proceedings within the jurisdiction of the Courts.
The District of Idaho has had 11
Judges appointed by the President of the United States, with two of them currently presiding. In addition to our two Article III Judges, we have three Magistrate Judges assisting with our busy workload.
Our judges hold court in Boise, Coeur d'Alene, and Pocatello.

The calendar updates as new information becomes available and is subject to change without notice. To schedule a hearing, contact the courtroom deputy.


Updated Means Testing Data Effective Nov. 1, 2020
Oct 18, 2020

2021 Community Grant - Press Release
Oct 02, 2020
The Board of Judges and lawyer reps announce $40,000 available for Community Grants. Deadline 10/30.

District of Idaho Appoints Lawyer Representative
Oct 01, 2020
The District of Idaho is pleased to announce the selection of Katie Ball as a new Lawyer Representative.

New General Order 373 renewing General Order 363
Sep 25, 2020

FBA Case Summaries - September 2020
Sep 15, 2020

FBA CLE Program October 29, 2020 via Zoom
Sep 15, 2020
Compassionate Release and the First Step Act - Guest speakers: Miles Pope and Justin Whatcott.

CJA Application Announcement
Aug 28, 2020
Please note applications are due by October 31, 2020.