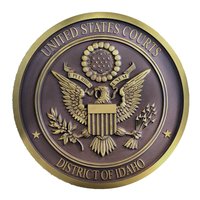 The District of Idaho Clerk of Court, Stephen W. Kenyon, welcomes you to the U.S. District and Bankruptcy Courts for the District of Idaho. We are one of 15 districts in the Ninth Circuit which spans 9 western states. Idaho is proud to be one of only six consolidated District and Bankruptcy Clerks' Offices within the federal judiciary.
The U.S. Courts for the District of Idaho was created with statehood in 1890. Our offices are located in Boise, Coeur d'Alene, and Pocatello.
We trust this website will give some insight into the functions of the U.S. Courts and how the Clerk's Office can better serve the people of the State of Idaho.

Registration Open - 2021 Bench/Bar Conference
Sep 24, 2021
Please join us for the free 2021 Virtual Bench/Bar Conference on October 15, 2021. Click for the agenda and registration info.

GO 403 Extending CARES Act Provisions
Sep 22, 2021
Renewing GO 363 and extending CARES Act provisions in criminal proceedings by 90 days.

Video of Judge Patricco's Investiture
Sep 22, 2021
Please click to view the video of U.S. Magistrate Judge Raymond E. Patricco's investiture ceremony on September 17, 2021.

Sonyalee Nutsch Appointed as Lawyer Representative
Sep 20, 2021
Sonyalee Nutsch has been appointed Lawyer Representative for the 1st and 2nd Districts. Her term will begin January 1, 2022.

GO 402 re Masks & Social Distancing in Courthouses
Aug 02, 2021
New General Order requiring masks and social distancing for all persons entering the District of Idaho courthouses.
Mission Statement


The mission of the United States District and Bankruptcy Courts for the District of Idaho is to provide an impartial and accessible forum for the just, timely and economical resolution of legal proceedings within the jurisdiction of the Courts, so as to preserve judicial independence, protect individual rights and liberties, and promote public trust and confidence.