Chief Bankruptcy Judge Joseph M. Meier
General Information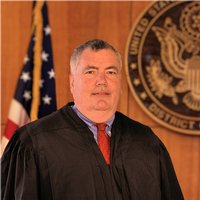 Chief Judge Meier received his B.A. in 1981 from the University of Oregon and his J.D. in 1984 from Willamette University School of Law, where he was a staff member of the Willamette Law Review.
Judge Meier was appointed to the bench in 2018 and became the Chief Bankruptcy Judge in 2019. Prior to his appointment, he practiced in the areas of bankruptcy, commercial, real property and business law and has represented creditors, debtors, committees and trustees in chapters 7, 11, 12 and 13 proceedings. He represented lenders and borrowers in complex loan restructures and commercial litigation.
Judge Meier was director of the Commercial and Bankruptcy Law Section of the Idaho State Bar from 1995 to 2001 and has been a frequent speaker and moderator on bankruptcy issues at events sponsored by the state bar. He was a Ninth Circuit lawyer representative for the District of Idaho from 2002 to 2005 and sat on the circuit's Lawyer Representative Coordinating Committee from 2006 to 2008, serving as chair from 2007 to 2008.
In 2017, Judge Meier was the recipient of the Idaho State Bar's Professionalism Award. He was selected as an American College of Bankruptcy fellow in 2005 and has been recognized in Rocky Mountain States Super Lawyers and Best Lawyers since 2004.
Judge Meier is assigned, at random, approximately one-half of the bankruptcy cases and related adversary proceedings from the Southern Division, and all cases and adversary proceedings from the Eastern Division.
Hearings for bankruptcy cases and adversary proceedings are generally scheduled for the division in which the bankruptcy case was commenced. The Court may consider hearing matters in another location with the consent of all parties or in the interests of justice. Consult the courtroom deputy concerning the scheduling or location of any hearing, or regarding emergency or urgent matters in the event the presiding judge is unavailable.

Print Me