United States Bankruptcy Court
Welcome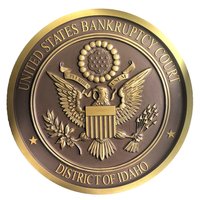 Welcome to the U.S. Bankruptcy Court for the District of Idaho.
We hope this website will provide useful information about the Court, its operations and its processes, and answer many of the questions you might have. Please let us know if you have suggestions to improve the site.
Below you can find the latest news from the Bankruptcy Court for the District of Idaho.

The calendar updates as new information becomes available and is subject to change without notice. To schedule a hearing, contact the courtroom deputies.


Proposed Judge Myers Calendar 2017 (Rev 1/3/17)

Proposed Dates for Judge Jim D. Pappas 2017

341(a) Mtg of Creditor Dates 2017

Proposed National Rule/Form Changes- Ch 13 Plan
Feb 09, 2017
Please see the attached information regarding pending FRBP and Official Form changes regarding the chapter 13 plan form.

New Standing Chapter 12 Trustee for the District
Jan 31, 2017
Gary L. Rainsdon has been appointed a standing chapter 12 trustee for the District of Idaho, effective February 1, 2017.

Notice re: Discontinued Twin Falls Hearings
Dec 05, 2016
The U.S. Bankruptcy Court will discontinue hearings in Twin Falls effective January 1, 2017.

Print Me